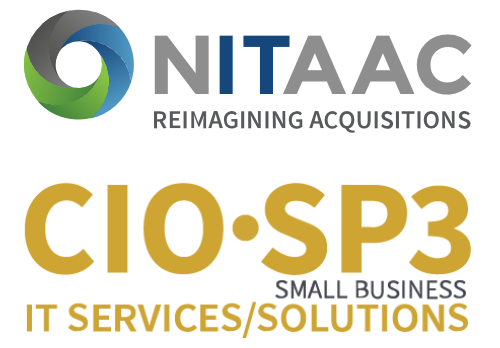 Chief Information Officer-Solutions and Partners 3 (CIO-SP3 SB) Small Business
Chief Information Officer-Solutions and Partners 3 Small Business (CIO-SP3 SB) is a 10-year IDIQ Government-Wide Acquisition Contract (GWAC) with a 15-year period of performance designated as Best in Class (BIC) by the Office of Management and Budget (OMB). CIO-SP3 Small Business helps agencies meet their mission critical needs and small business goals with innovative IT services and solutions from a wide variety of industry-leading small businesses and can be used by any federal, civilian or DoD agency.
Program Manager
Alan Warmbier
Technical Lead
Contract Manager
Shawn Elliot
Vice President, Federal Solutions
(540) 657-4717
Customer Satisfaction
Jeff Bochonok
COO Federal Services
(540) 657-4714
Federal IT challenges are solved everyday with CIO-SP3 Small Business, a Government-Wide Acquisition Contract (GWAC) offering emerging technology, solutions and services. CIO-SP3 Small Business features a wide variety of leading small business innovators and can be used by any federal, civilian or DoD agency to fulfill IT requirements and socioeconomic goals.
Operating under Federal Acquisition Regulation (FAR) Part 16, GWACs deliver efficiencies in the following ways:
No need to synopsize requirements (FAR Subpart 16.505[a][1]) or post on FedBizOpps
Streamlined ordering procedures are based on Fair Opportunity (FAR Subpart 16.505[b][1]) vs. full and open competition
No requirement to set a competitive range, which means CO's can engage in detailed communications with contract holders as long as each offeror is treated equitably
Scoring/ranking proposals, and formal evaluation plans are not required (FAR 16.505[b][v][B])
No protest on orders under $10 million except on the grounds that the order increases the scope, period or maximum value of the contract (FAR Subpart 16.505 [a][10][i])
Not subject to the Economy Act (FAR Subpart 17.502-2[b])
IPKeys provides numerous Federal Agencies operational expertise across network communications, software engineering, cybersecurity, cloud and data centers, and system acquisition. IPKeys is an approved CIO-SP3 Small Business contractor and holds qualifications in the following task areas:
Task Area 1 – IT Services for Biomedical Research, Health Sciences, and Healthcare
Task Area 2 – CIO Support
Task Area 3 – Imaging
Task Area 4 – Outsourcing
Task Area 5 – IT Operations and Maintenance
Task Area 6 – Integration Services
Task Area 7 – Critical Infrastructure Protection and Information Assurance
Task Area 10 – Software Development
Prompt Payment Terms: None. Prompt payment terms are in accordance with FAR 52.232-25 as provided in the master contract.
Looking to Partner with Us?
We're always looking for opportunities to work with other industry leaders to improve service delivery, quality or reduce cost. Click below to contact us.